Language
Fotel spa do pedicure Azzurro 016C brązowy z masażem pleców i hydromasażem
Shipping within

24 hours

Shipping price

50

The Availability Of

Mało

12

opak

The Weight Of The

85 kg
| | |
| --- | --- |
| The bar code | |
| EAN | 5906717449383 |
Zamówienie telefoniczne: 32 420 73 75
Description

Reviews & ratings (0)

Ask a question
Wysoka jakość, zaufany producent
Azzurro dostarcza na rynek branży beauty wysokiej jakości produkty takie jak fotele i leżanki kosmetyczne czy specjalistyczne urządzenia typu kombajn. Używane w salonach kosmetycznych, gabinetach podologicznych, studiach masażu i fizjoterapii dostarczają klientom wspaniałe doznania, których efekty przewyższają ich oczekiwania.

Nowoczesne wyposażenie salonu kosmetycznego
Ten nowoczesny i elegancki fotel do pedicure sprawdzi się w każdym salonie kosmetycznym czy gabinecie podologicznym. Posiadanie takiego fotela w swoim salonie to nie tylko prestiż, to także gwarancja wykonania zabiegu na najwyższym poziomie. Jest bardzo solidnie skonstruowany, a jego obszycie wykonane jest z ekologicznej skóry. Siedzisko oraz podłokietniki są nadzwyczaj wygodne, przynosząc satysfakcję już od pierwszego momentu siedzenia.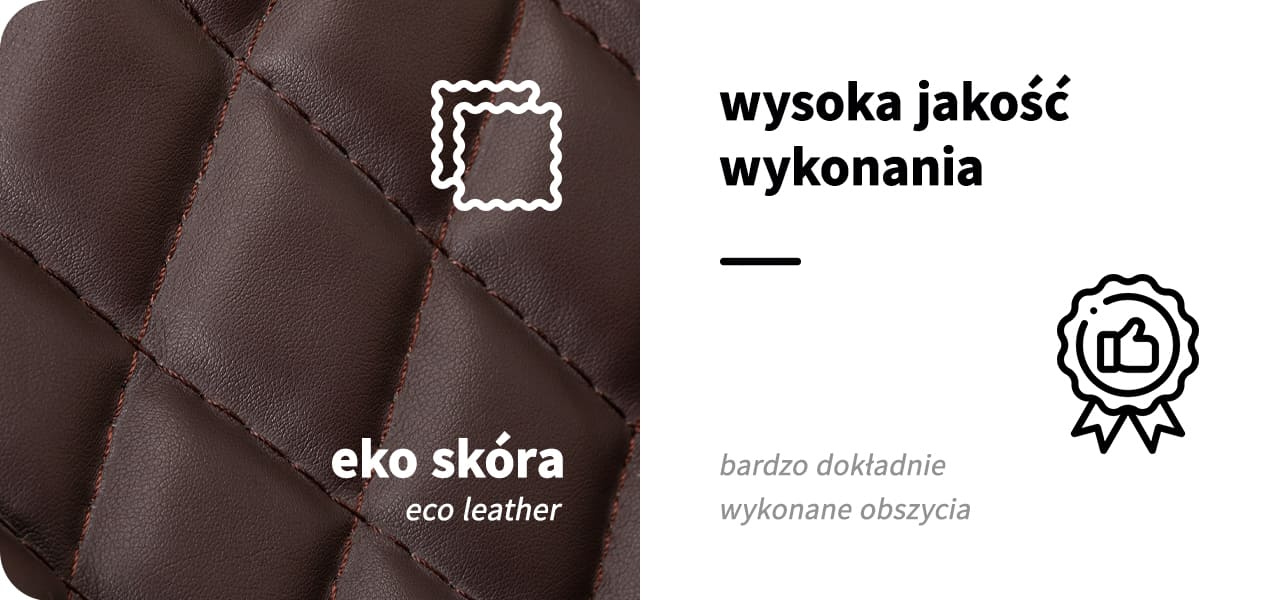 Funkcjonalna wanna zabiegowa
Wanna została wykonana z wysokogatunkowego akrylu. Dzięki funkcji hydromasażu przyniesie dodatkową ulgę zmęczonym stopom. Wannę bez problemu można podłączyć do bieżącej wody i odpływu. Zamontowany jest w niej kran oraz bateria do regulacji temperatury.
Odprężający masaż
Wyposażony w specjalne rolki masujące fotel przyniesie dodatkowy relaks i odprężenie każdemu klientowi podczas zabiegu. Dołączony pilot pozwala na wybór programu automatycznego lub dostosowanie manualne masażu. Steruj położeniem fotela poruszając oparciem do tyłu i do przodu, oraz obniżając lub podwyższając siedzisko. Jeśli w danym momencie nie wykonywany jest zabieg, stopy można swobodnie położyć na podnóżku, ciesząc się chwilą spokoju.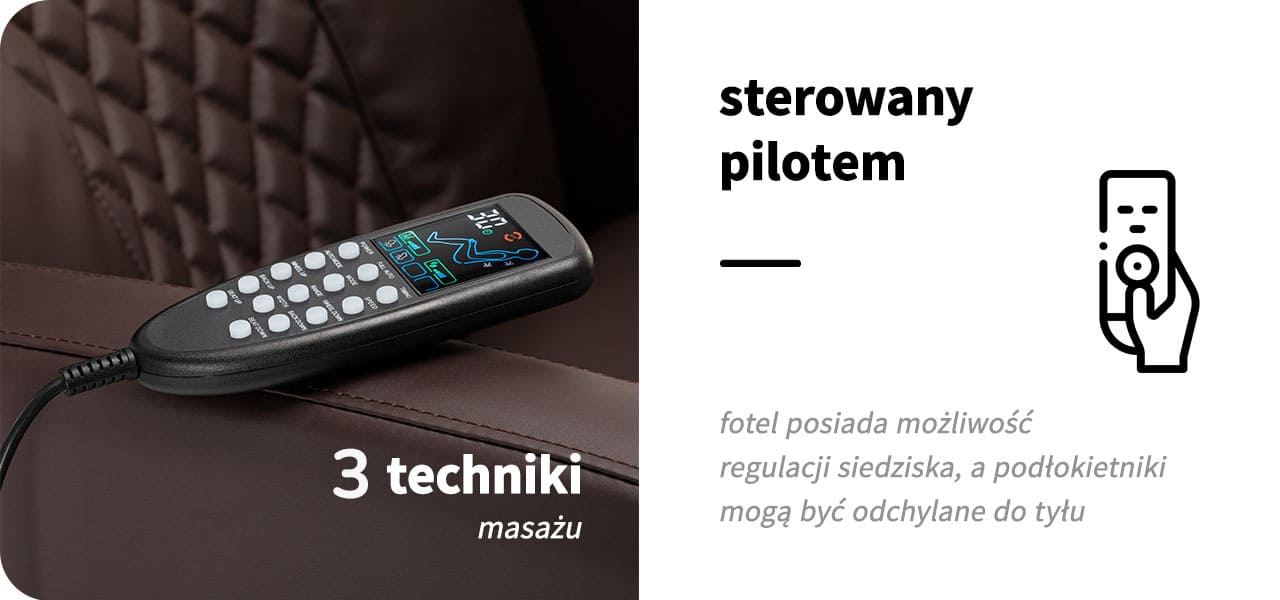 Efektywne techniki masażu
Masaż wykonywany jest przez zestaw specjalnych rolek pukających oraz ugniatających, które poruszają się w górę i w dół na prawie całym odcinku kręgosłupa. Zainstalowane trzy techniki masażu przyniosą pozytywne rezultaty zdrowotne:
Ugniatanie (Kneading): Technika masażu, w której nacisk wywierany jest na powierzchowne i głębokie tkanki w celu leczenia napiętych mięśni, zwiększenia elastyczności i zmniejszenia bólu poprzez rozbicie i wyrównanie włókien kolagenowych w mięśniu. Ta technika może również oddziaływać na zmniejszenie odczuwania emocji związanych ze stresem i lękiem.
Pukanie (Knocking): Polega na wielokrotnym wywieraniu nacisku na obszar pleców za pomocą ruchu opukiwania. Sekwencja jest ciągła i pojawia się w krótkich impulsach, które wpływają na rozluźnienie mięśni pleców.
Ugniatanie z pukaniem (Kneading & knocking): Ta technika pozwoli na większy relaks oraz rozluźnienie mięśni. Wpłynie pozytywnie na cały organizm i poprawi krążenie krwi.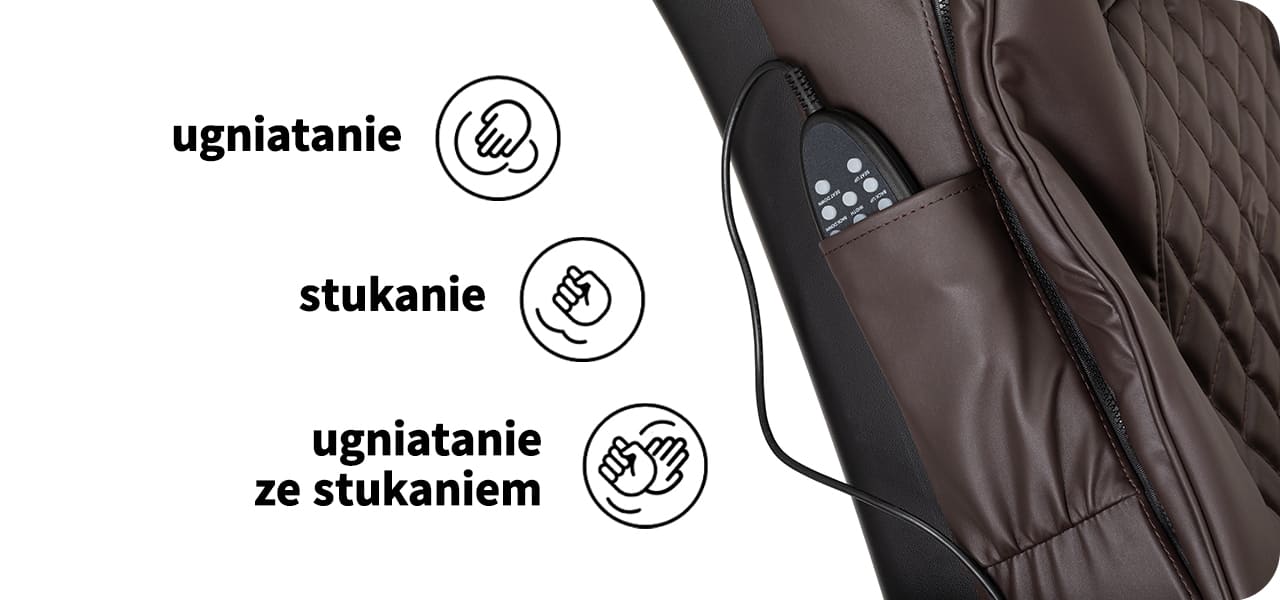 Gwarancja zadowolenia
Fotel SPA do pedicure od Azzurro stanowi wartościowy element dla profesjonalnego salonu kosmetycznego. Inwestycja w ten rodzaj wyposażenia z całą pewnością odpłaci się pod postacią wielu zadowolonych klientów. Fotel ten posiada dwuletnią gwarancję.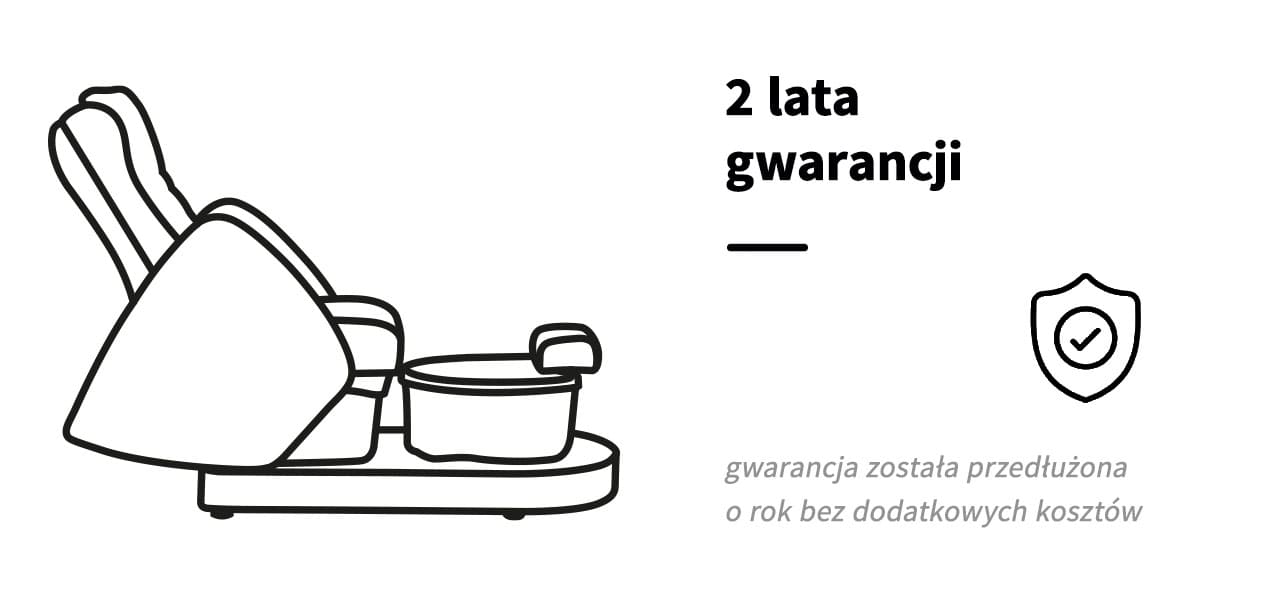 Dane techniczne:
Kolor obicia: Brązowy
Materiał: Eko-skóra
Waga: 85 kg
Wymiary: 155,5 (dł) x 74 (szer.) x 97 (wys) cm
There is currently no comments or ratings for this product.
Similar products

Recently viewed products

Other Customers also purchased