Language
The Symbol : ZKG-Z490i7CUBE-P01
Shipping within

24 hours

Shipping price

14.99

The Availability Of

Duża dostępność

999

opak
| | |
| --- | --- |
| The bar code | |
| EAN | 5900626902861 |
Zamówienie telefoniczne: 32 420 73 75
Description

Reviews & ratings (0)

Ask a question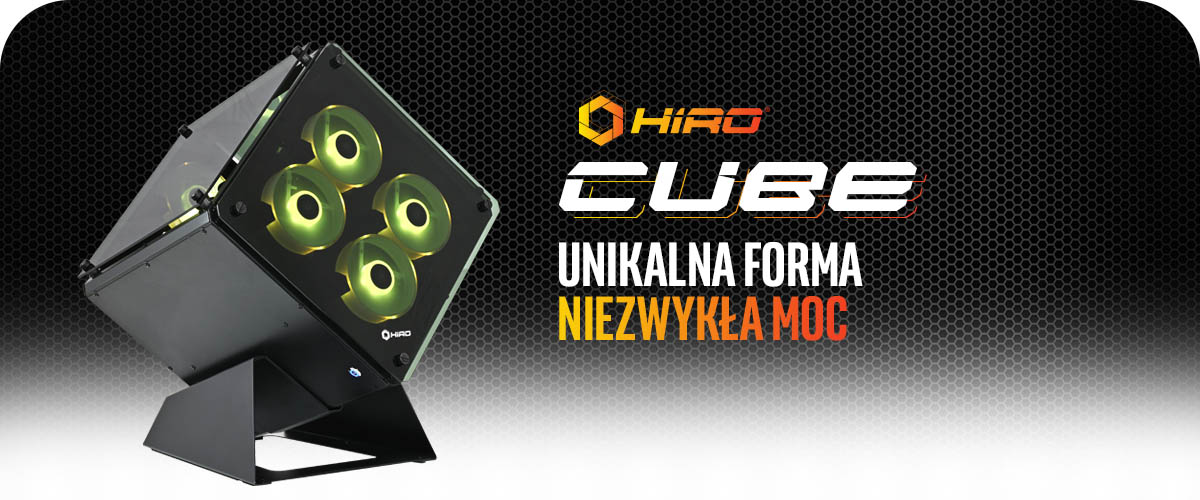 Komputer do gier HIRO Cube został stworzony z myślą o najbardziej wymagających graczach szukających czegoś niezwykłego. Powstał jako szalony pomysł zespołu pracującego nad komputerami HIRO, mający przyciągnąć wzrok każdego gracza, który zauważy go na biurku. Jego unikalna obudowa o specyficznym kształcie i ułożeniu, posiada zaawansowany system odprowadzania ciepłego powietrza, dzięki pięciu wiatrakom z podświetleniem LED RGB, sterowanym z poziomu aplikacji.

Jednak tutaj nie kończą się niesamowite cechy. Wnętrze komputera, jest zaskakujące równie mocne jak jego wygląd. Wyposażony w najlepsze podzespoły gwarantuje najwyższą wydajność, by poradzić sobie z każdym wyzwaniem. Przystosowany do obsługi najnowszych gier, edycji filmów, zdjęć i streamingu w pełnej płynności. Te aspekty spełniają wymagania każdego fana gier komputerowych i wirtualnej rozrywki. pozwalając na uruchomienie każdej gry w pełnej płynności 60FPS i więcej, nawet w rozdzielczości 4K!

W komputerze HIRO Cube znajduje się najnowszy model procesora jedenastej generacji Intel® Core™ i7-11700KF w połączeniu z kartą graficzna GeForce® RTX 3060 o pamięci aż 12GB to zestawienie które zapewni wydajność na najwyższym poziomie. Zapewniają one doskonałą wydajność we wszystkich grach komputerowych single i multiplayer w najwyższych ustawieniach graficznych. Najnowsze tytuły gier komputerowych pojawiające się na rynku, nie są żadnym wyzwaniem dla HIRO®. Oferuje w ten sposób nie tylko wydajność podczas grania ale także podczas pracy w zaawansowanych programach do obróbki multimediów. Komputer marzeń każdego gracza ma zastosowany rozbudowany układ chłodzenia wodnego. Ten system chłodzenia, zapewni najniższe możliwe temperatury nawet przy znacznym obciążeniu komputera. Dzięki temu cały zestaw będzie pracował z maksymalną szybkością niezależnie od wykonywanych zadań.

Komputer HIRO® to również świetny wybór dla profesjonalnych twórców, którzy potrzebują ogromnej mocy obliczeniowej do obsługi zaawansowanego oprogramowania do obróbki multimediów. Programy pakietu ADOBE®, Autodesk® SolidWorks® i wielu innych producentów są obsługiwane przez zestawy HIRO® bez najmniejszych problemów i pracują z pełną prędkością. Komputer HIRO® zapewni moc na najwyższym poziomie na kilka lat.

32 GB pamięci RAM Skill Trident Z RGB Neo o taktowaniu aż 3600 Mhz gwarantuje uruchomienie każdej gry dostępnej na rynku a także wykonywanie na komputerze wielu wymagających zadań jednocześnie, na przykład streamowanie rozgrywki na żywo! Pamięci wyposażone są w podświetlenie LED, zintegrowane z całym podświetleniem komputera.

Gry komputerowe zajmują coraz więcej miejsca a standardowy dysk HDD to już przeszłość ze względu na ograniczenia prędkości odczytu danych. Chcąc zapewnić jak największe możliwości, komputer HIRO Cube został wyposażony w super szybki dysk SSD M.2 Samsung 980 o pojemności 1 TB. Oferując oszałamiające prędkości odczytu, aż do 3500 MB na sekundę!

Komputery do gier HIRO® posiadają podzespoły wyselekcjonowane przez specjalistów w budowaniu konfiguracji komputerowych. Ponad 30-letnie doświadczenie na rynku, pozwoliło dobrać procesory, płyty główne czy pamięci RAM tak, aby spełniały najwyższe normy i zapewniały pełną kompatybilność z resztą podzespołów. Dobierane komponenty posiadają gamingowy charakter, podkreślający wygląd całego zestawu dzięki podświetlanym elementom podzespołów.

Całości dopełnia najnowszy, aktualny system Windows 10 wraz ze wszystkimi najnowszymi sterownikami, gwarantujący pełną zgodność z podzespołami komputera i najnowszymi grami które pojawiają się na rynku. Niezwykle prosta i intuicyjna obsługa wszystkich funkcji komputera to bardzo ważny argument za wyborem komputera z systemem Windows 10. Jednocześnie otrzymujesz sprzęt na bieżąco aktualizowany o wszelkie pakiety bezpieczeństwa przeciw wirusom komputerowym. Komputer objęty został również przedłużoną gwarancją na 3 lata. Okres ten obejmuje obsługę naprawczą, a także logistykę transportu z i do serwisu. Klienci wybierający komputery NTT, nie ponoszą kosztów transportu niesprawnej jednostki. Naprawa odbywa się w centrali NTT System, gdzie umieszczona jest również linia produkcyjna. Gwarancja obsługiwana jest przez specjalistów, znających komputery HIRO® od podszewki. Masz więc pewność, że sprzęt zostanie przywrócony do funkcjonalności równej tej, jaką posiadał od początku.

Parametry

Procesor
Intel® Core™ i7-11700KF (16M Cache, up to 5.0 GHz)
System Operacyjny
Windows® 10 Home
Płyta główna
z chipsetem Intel® Z490
Pamięć operacyjna (RAM)
32 GB
Dysk twardy
Brak
Karta graficzna
GeForce® RTX 3060
Karta dźwiękowa
HD Audio
Napęd
Brak
Czytnik kart pamięci
Nie
Klawiatura
Nie
Mysz
Nie
Gwarancja producenta
36 miesięcy
Złącza (przód)
2x USB 2.0 | 2x USB 3.0 | 1x gniazdo słuchawkowe | 1x gniazdo mikrofonowe
Typ procesora
Intel® Core™ i7
Ilość rdzeni
8
Ilość wątków
16
Taktowanie
3600 MHz
Dysk SSD
1 TB
Pamięć karty graficznej
12 GB
Moc zasilacza
650W
Wersja językowa
polska
Zestaw zawiera
Kabel zasilający, instrukcja, karta gwarancyjne, oprogramowanie sterowników, nośnik instalacyjny systemu Windows (zależnie od wybranej wersji)
Okres licencji
dożywotnia
Chłodzenie
Wysokowydajny system chłodzenia wodnego
Oprogramowanie dodatkowe
Aktualne sterowniki
Taktowanie maksymalne procesora
5.00 GHz
Ilość obsługiwanych monitorów
maksymalnie 4 monitory
Ilość zainstalowanych modułów RAM
2
Tryb pracy pamięci RAM
Dual-Channel
Możliwość rozszerzenia pamięci RAM
do 128 GB
Typ dysku SSD
M.2
Karta sieciowa (LAN)
Tak
Przepustowość sieci LAN
10/100/1000 Mb/s
Standard dźwięku
2.1/4.1/5.1/7.1 Surround
Złącza wideo
1x HDMI | 3x DisplayPort
Złącza audio (tył)
6x Audio jack 3,5mm (w tym złącze mikrofonu i słuchawek)
Złącza komunikacyjne
2x USB 3.0 | 1x USB 2.0 | 1x USB 3.1 Typ-C
Rodzaj gwarancji
Door-to-door (pełna obsługa transportu z i do serwisu)
Model pamięci RAM
G.Skill Trident Z RGB Neo
Model dysku SSD
Samsung 980 M.2, 3500/3000 MB/s
There is currently no comments or ratings for this product.
Recently viewed products

Other Customers also purchased

Similar products