Language
Stanowisko do pedicure TRON biały
Shipping within

24 hours

Shipping price

50

The Availability Of

Brak towaru

0

opak

The Weight Of The

57 kg
| | |
| --- | --- |
| The bar code | |
| EAN | 5906717451997 |
Description

Reviews & ratings (0)

Ask a question

Marka ACTIVESHOP od wielu lat oferuje szeroką gamę produktów, które sprawdzają się w profesjonalnym użytku w wielu branżach. W dostępnym asortymencie można znaleźć artykuły z różnych kategorii, od drobnych, niezbędnych akcesoriów, po specjalistyczne wyposażenie.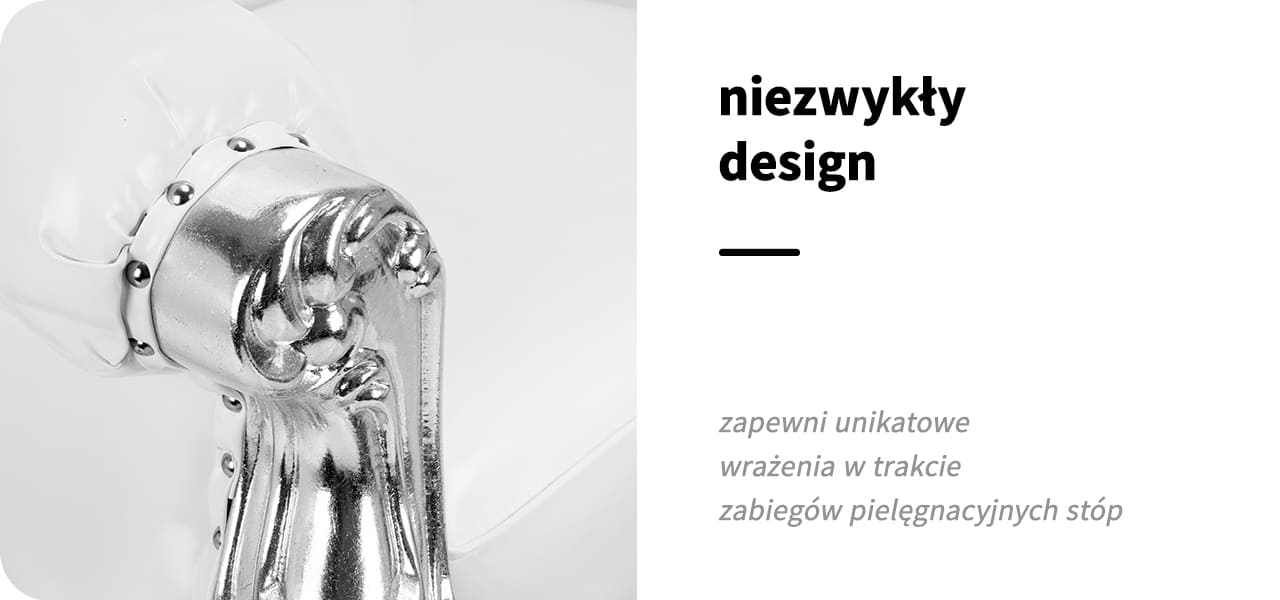 Wyjątkowe stanowisko do pedicure
Nietuzinkowe aranżacje salonóww stylu glamour pozwalają oderwać się od rzeczywistości i zrelaksować w wyjątkowym otoczeniu. Stanowisko do pedicure Tron charakteryzuje się funkcjonalnością, ozdobnym wykończeniem i wystawnym designem. Ozdobny fotel z praktycznym brodzikiem sprawią, że zabiegi pielęgnacyjne stóp staną się bajecznym przeżyciem.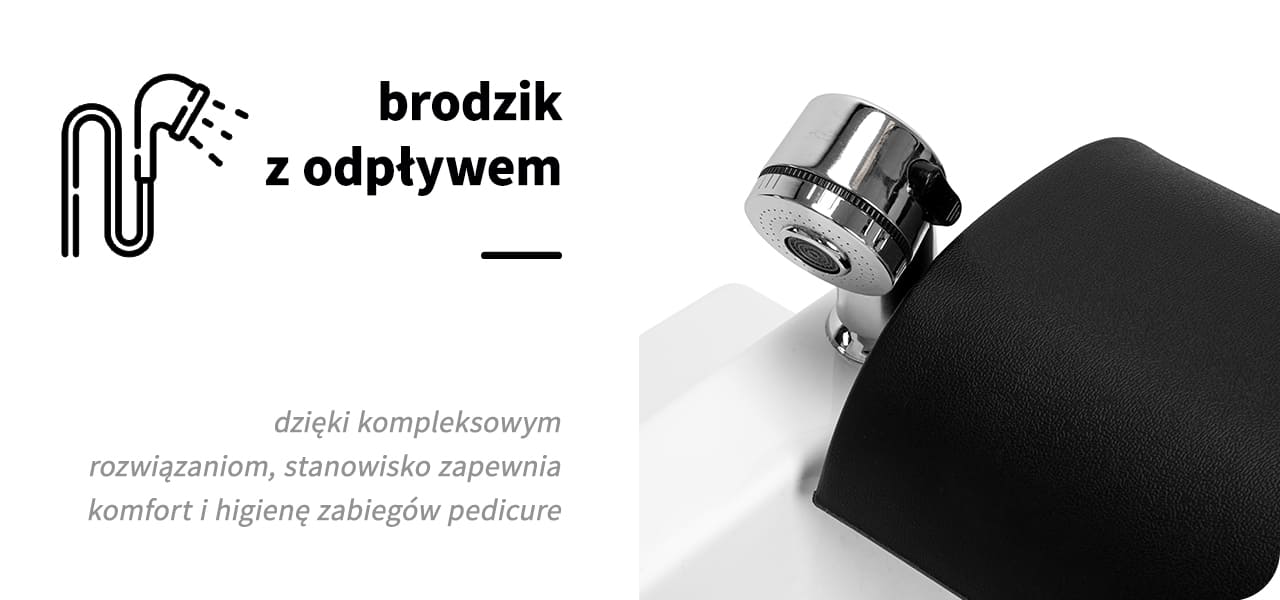 Luksusowe udogodnienia
Starannie obite podłokietniki stanowią doskonałe oparcie dla rąk nawet w przypadku dłuższych zabiegów. Ozdobne oparcie stylizowane na królewskie i szerokie siedzisko wypełnione pianką pozwalają na dogodne ułożenie ciała. Zapewni to użytkownikom wysoki komfort oraz wyczekiwaną chwilę wytchnienia w trakcie korzystania z usług. Na stabilnej podstawie znajduje się również odpowiednich wymiarów brodzik z możliwością bezpośredniego podłączenia do odpływu wody. Gwarantuje to wykonywanie zabiegów na najwyższym poziomie. Stanowisko do pedicure to rewelacyjny wybór - zawiera w sobie najważniejsze elementy potrzebne do przeprowadzania profesjonalnych zabiegów kosmetycznych, przy zachowaniu wysokich standardów higienicznych. Dzięki temu jednym zakupem można urządzić ekskluzywny kącik do usług pedicure, nadając mu przy tym wyjątkowego charakteru.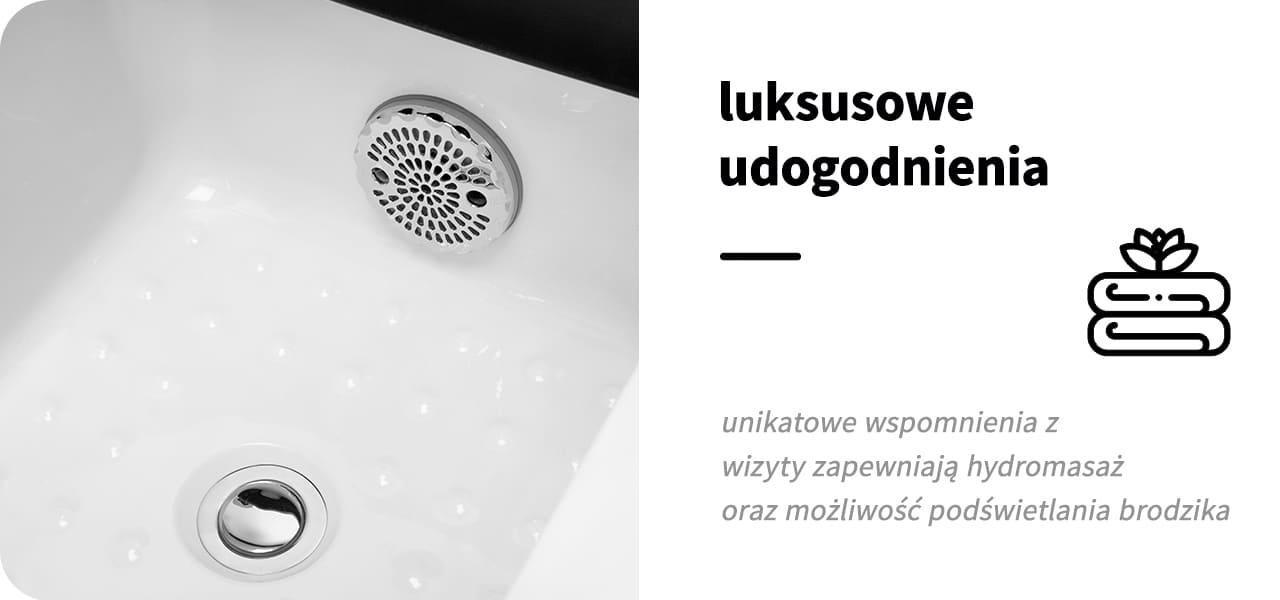 Niepowtarzalne odczucia podczas zabiegów
Brodzik wyposażony jest w funkcję masażu wodnego, co uprzyjemnia zabieg i pozwala na rozluźnienie mięśni oraz poprawę krążenia krwi. Hydromasaż może również pomagać zredukować bóle oraz znacząco poprawiać samopoczucie. Lampka zamontowana w brodziku sprzyja tworzeniu unikalnego klimatu w trakcie usług. Możliwość podświetlania go na różne kolory sprawi, że pielęgnacja stóp będzie niezwykle przyjemnym przeżyciem. Wykonywanie zabiegów znacząco ułatwią zamontowana przy brodziku słuchawka oraz wypełniony pianką i obity imitacją skóry praktyczny podnóżek. Wszystkie te detale zapewnią użytkownikowi pełen relaks i pozostawią unikatowe wspomnienia z wizyty w salonie.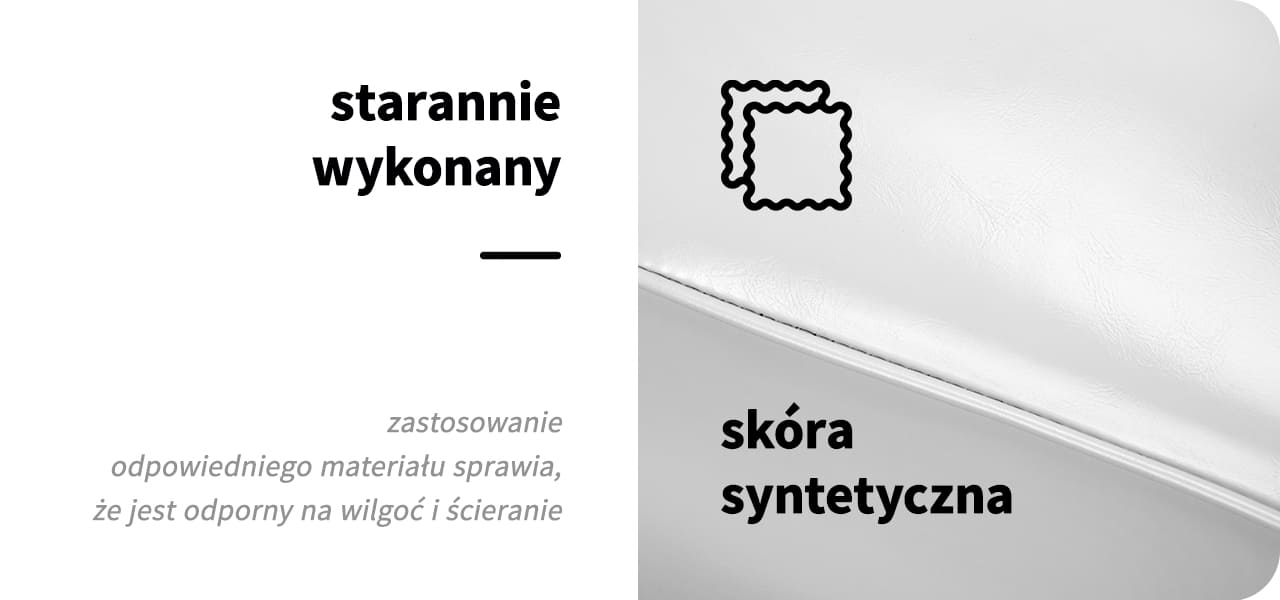 Królewski design dla unikalnych wrażeń
Trwała podstawa w odcieniach bieli zapewnia stabilność w trakcie zabiegów, a jej gładka powierzchnia jest łatwa do utrzymania w czystości. Fotel wypełniony jest pianką o odpowiedniej twardości i pokryty przyjemną w dotyku imitacją skóry w odcieniach bieli. Dzięki użyciu takiego materiału, sprzęt jest odporny na wilgoć i ścieranie oraz mało wymagający w czyszczeniu. Wykończenie z fantazyjnymi elementami w odcieniach postarzanego srebra, pikowaniem oraz zdobnymi guzikami nadaje mu niepowtarzalny wyraz. Spektakularne stanowisko do pedicure Tron pozwolipodkreślić wyszukany charakter salonu i z pewnością zapadnie w pamięci klientom.

Dokładne wymiary podano na zdjęciu.
Zestaw zawiera: fotel, podświetlany brodzik do pedicure z baterią, podstawa.
Dane:
Kolor podstawy: odcienie bieli
Kolor zdobień: odcienie srebra
Kolor obicia: odcienie bieli
Materiał obicia: skóra syntetyczna
Wypełnienie siedziska: pianka
Gwarancja: 12 miesięcy
There is currently no comments or ratings for this product.
Similar products

Recently viewed products

Other Customers also purchased